Under the theme From Montreal Canadiens to Claridge to Artificial Intelligence: Career of an atypical leader, Mr Pierre Boivin, President and CEO of Claridge Inc., came share his background and experience as well as the motivations that led him to get involved more recently in the field of artificial intelligence.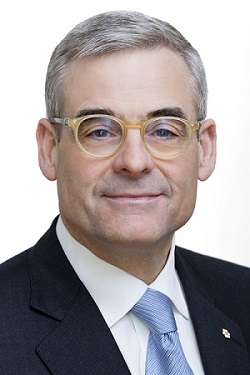 Pierre Boivin, O.C., C.Q. is the President and CEO of Claridge Inc., a private investment firm that represents the interests of the Bronfman family. He leads a team of professionals in developing a diversified portfolio of private, public market and real estate investments.
In addition to being a member of Claridge Inc.'s board of directors, Pierre Boivin, O.C., C.Q. also sits on the boards of the National Bank of Canada, Canadian Tire, The CH Group (Montreal Canadiens, evenko, Spectra) and Solotech. Moreover, he's chairman of the board of directors of the Quartier de l'innovation de Montréal (QI) and co-chair of the Quebec Artificial Intelligence (AI) cluster Orientation Committee.

Pierre Boivin, O.C., C.Q. is also very involved in fostering entrepreneurship and acts as entrepreneur-trainer at the École d'Entrepreneurship de Beauce and as a facilitator for Institute of Leadership in Management programs. He is the founder and chairman of the board of the Montreal Canadiens Children's Foundation and co-chairman of CHU Sainte-Justine Foundation's major campaign Healing More Better. In 2009, was awarded an honorary doctorate by the Université de Montréal and made an Officer of the Order of Canada, and he was named "most committed top executive" by Les Affaires in 2015. He was made a member (knight) of l'Ordre national du Québec in 2017.
When: Monday, April 9, 2018, 5:00 pm - 7:00 pm
Where: Center for Interuniversity Research and Analysis of Organizations
---