HIGHLIGHT
Conference "25 Years of Public Policy in Québec" to mark the 25th anniversary of CIRANO

As part of its 25th anniversary, CIRANO is organizing the Conference "25 Years of Public Policy in Québec". For the occasion, several researchers will gather to discuss of the major themes that have marked Québec and research at CIRANO over the past decades. The major discussions of the day will also shed light on upcoming public policy issues in Québec.
A LOOK BACK ON OUR EVENTS
CEO Seminar with Manon Brouillette
Ms Manon Brouillette, President and CEO of Videotron from 2013 to December 2018, shared her experience during a networking reception gathering researchers and business people on February 18. The discussion, led by Louise Roy, aroused great interest among the audience.
5@7 Association des économistes québécois - CIRANO
Public Transit Pricing: Impacts of a Pricing Overhaul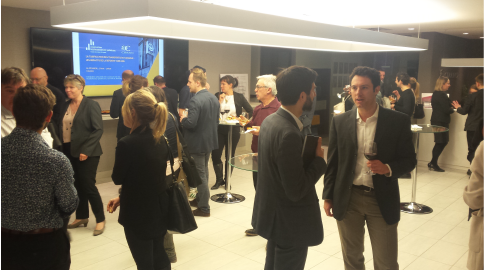 Jean-Philippe Meloche (Associate Professor, École d'urbanisme et d'architecture de paysage at Université de Montréal, CIRANO Fellow and Researcher at Observatoire Ivanhoé Cambridge du développement urbain et immobilier) and Daniel Bergeron (Executive Director, Planification des transports et de la mobilité at Autorité régionale de transport métropolitain (ARTM)) exchanged on the topic of the pricing of public transport. The discussion was moderated by Geneviève Charette (Senior Economist at AECOM). More than 50 people were present at this event co-organized by CIRANO and the Association des économistes québécois on February 28th.
OUTREACH
Appointment of Professor Marcelin Joanis as Vice-President for Research at CIRANO


In this capacity, Mr. Joanis will be responsible for developing an overview of CIRANO's research activities in order to ensure their proper functioning and the existence of internal synergy. In particular, he will be responsible for proposing and maintaining an evolving structure for the animation of research at CIRANO organized around major themes.


More information
Appointment of Ingrid Peignier as Senior Director of Partnerships and Research Valorization at CIRANO


In this capacity, Ms. Peignier will be responsible for strengthening CIRANO's liaison and transfer activities. She will be responsible for promoting research and disseminating research results to different audiences: the research community, partners, government, business and the public. She will oversee the implementation of strategies to foster collaboration between researchers and partners and to ensure sustainable relationships with partners.


More information
Welcome to CIRANO new Fellows and Researchers


CIRANO is pleased to welcome 11 new Fellow, Associate Fellow, Researchers and Associate Researcher.


More information
Two CIRANO studies on food fraud presented to the Ministère de l'Agriculture, des Pêcheries et de l'Alimentation du Québec


As part of the activities of the Forum Agro, Nathalie de Marcellis-Warin (President and Chief Executive Officer at CIRANO and professor at Polytechnique Montréal) et Ingrid Peignier (Senior Director of Partnerships and Research Valorization at CIRANO) presented the results of two CIRANO studies on food fraud to teams from the Ministère de l'Agriculture, des Pêcheries et de l'Alimentation du Québec (MAPAQ) in Quebec City on February 7th.


More information