A LOOK BACK ON OUR EVENTS
CIRANO co-organized a conference on the issues and opportunities confronting the food industry that was attended by 150 representatives from this sector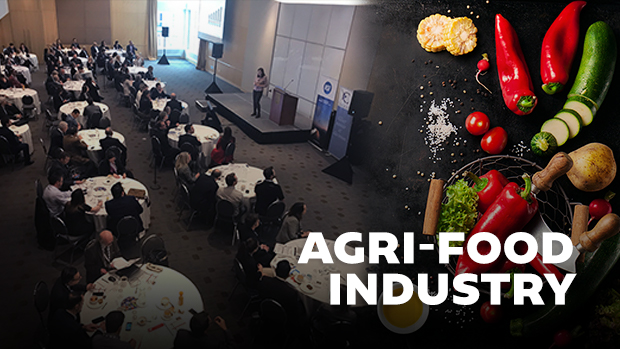 On February 1st, 2018, 150 representatives of the Agri-food industry (from producers to retailers and restaurateurs) joined with researchers in a high-level conference designed to shed some light on what the future holds. Jointly organized by CIRANO and NSF International in collaboration with the Conseil de la transformation alimentaire du Québec (CTAQ), this conference also provided a forum for several of CIRANO's researchers to present their current work. JoAnne Labrecque (HEC Montreal) presented her results on the disruptions eCommerce has brought to the food industry and Ingrid Peignier (CIRANO) talked about some initial results from a study of the value of food certification.
Last January 30, a workshop marking the launch of Québec économique 7: Éducation et capital humain was hosted by CIRANO. This flagship event for the year of education brought together 19 experts from the field of education who held a discussion in front of 70 participants.
Presentations and pictures
During a panel organized by CIRANO in collaboration with IRSPUM and ESPUM, Sandy Tubeuf (University of Leeds) and Thomas Poder (UETMIS and CRCHUS) talked about the issues and challenges posed by cost-utility analyses and illustrated them with examples from studies conducted in Great Britain and Quebec.
Presentations and pictures
Ejan Mackaay, CIRANO fellow, invited as an expert to the Gaidar Forum 2018 in Moscow
This forum, organized and hosted by the Russian Presidential Academy of National Economy and Public Administration (RANEPA) in Moscow, was held January 16–18, 2018. Mr. Mackaay presented the Russian edition of his book Law and Economics for Civil Law Systems (publication later in 2018) to this Forum as well as to the Leontief Centre in St. Petersburg. He was also one of a handful of experts invited to lunch with the Russian Prime Minister Dimitri Medvedev.
| | | | |
| --- | --- | --- | --- |
| | | Nathalie de Marcellis-Warin attended a Cockt-AI-l organized by the National Bank (a CIRANO partner) and IVADO. She gave a presentation on the impacts of computerization and AI on banks. | |
| | | | |
| --- | --- | --- | --- |
| | | Thierry Warin, a professor at HEC Montréal and CIRANO fellow, participated in the "UK-Canada Artificial Intelligence Mission" organized by UK Science & Innovation from January 22 to 24 in London. | |
CEO's seminars with Guy Cormier (Mouvement Desjardins)

Tuesday, February 20, 2018
Mr. Guy Cormier, President and Chief Executive Officer of the Mouvement Desjardins, will join us to share his expertise during a 5@7 with representatives from the research and business communities. The presentation will be followed by a networking cocktail. By invitation only.